Products
To see examples of past creations and items currently available visit us here:
If you don't see what you are looking for feel free to e-mail us at orders.lbb@gmail.com
Custom orders are always welcome.
Embroidered Hand Towels, Starting at $18
Towels are store bought and 100% Cotton, then machine embroidered by me. Towels measure 28.0 " Long x 16.0 " Wide
All towels are pre-washed twice (once before embroidering and once after).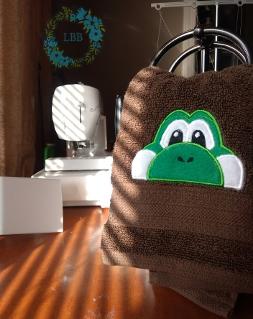 Snack Bags, $8
Great for school lunches or those long car rides. Easy for younger ones to hold and open/close themselves. Also allow your child to express their personality with a variety of prints available.
They are a handy 6"x6" snack size and lined with waterproof, food safe PUL.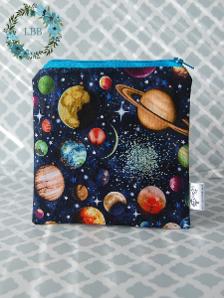 Coffee Mugs - Starting at $15
Large coffee mugs with vinyl designs to suit your style.

Mugs are 16oz. Hand wash only.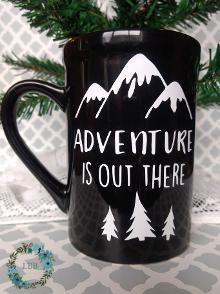 Christmas Decorations - $8
Machine embroidered Tree Decorations.
Wide variety available. Add personalized vinyl for $2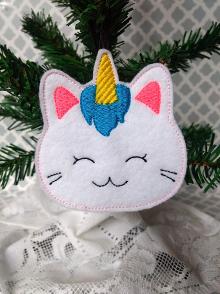 Pull Up Hybrid Trainers, Starting at $22
Outer is made from knit fabric and inner is lined with bamboo velour. Waist bands are cotton/spandex. Two layers of Bamboo/Organic cotton fleece are sewn into the wet zone and backed with polyester fleece to help keep the wetness in. Not recommended for heavy wetters or overnight use.
These pull up like normal underwear. The lining of the trainer does not wick away moisture, it is designed to help your little one feel when they are wet to help prevent future accidents
Sizes 12m - 5y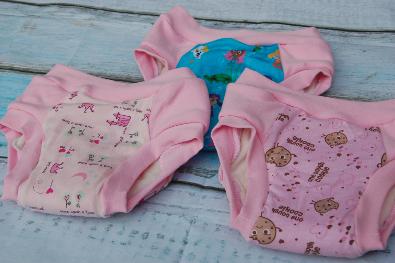 Cloth Doll Diapers, $6
For fun playtime around the house an adjustable doll diaper for your little one to play with. This diaper fits most dolls 14-22 inches.
Made with a Cotton or Flannel outer and an anti-pill Fleece inside. Easy adjustable Velcro tabs for your little one to change their dolly's diaper.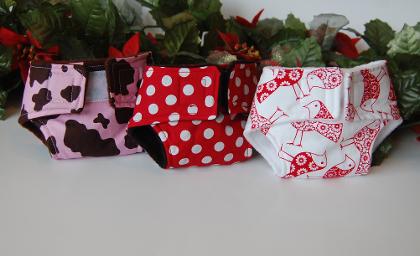 Child Underwear, $14
The comfiest underwear available for the whole family. Child pattern can be made in brief cut.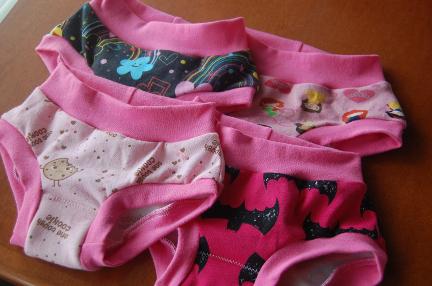 Underwear Ladies XS-L $20, XL-3XL $22
The comfiest underwear available for the whole family. Adult pattern can be made in brief cut or boy shorts,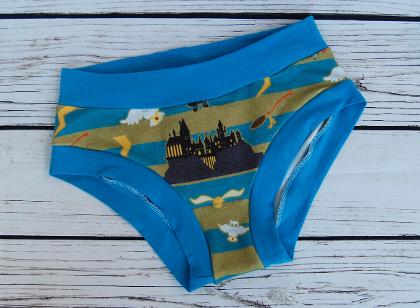 Cloth Pads, Starting at $7
Micro Liners, $7
Liners/Light, $9
Medium, $11
Heavy, $13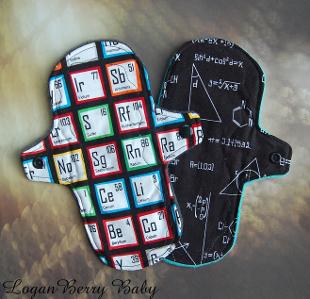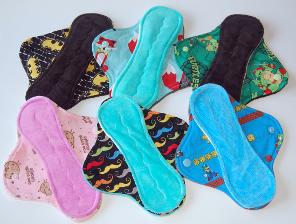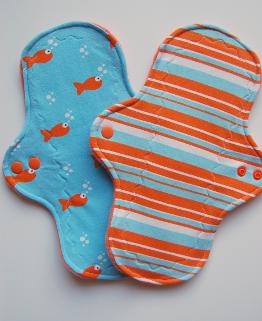 The Little Helper Apron, $21

Made from 2 layers of 100% cotton and designed to last your little helper. The apron is reversible for the child who always wants more options.
There is a D-Link on the neck strap to make sizing as easy as possible and nice long ties for the waist. One size fits from approximately 3 - 7 years! Measures 19.5" Long and 15.5" wide.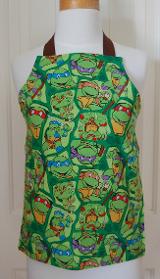 Slippers, Starting at $18
Extra grippy for the learning to walk stage, and super comfy for the relaxing on mom's lap stage. These slippers are great no matter what stage your little one is in.
All slippers are fleece lined with a non-slip sole. Outer fabric can be cotton woven/knit or fleece.
Sizes 0m to 4 years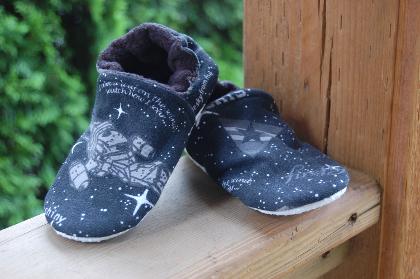 Adult slippers, Starting at $40
Made from 2 layers of fleece plus the outer print, and have a grippy fabric sole. Can be made in ladies sizes 5,7,9,and 11.
Pattern by Stitch Upon a Time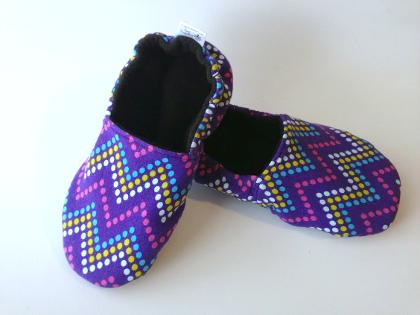 Hanging Wet Bags, $20

These are handy whether you cloth diaper or not. They can be used to hold a days worth of diapers (or Mama cloth) or your wet clothes from a day at the beach or pool. Can roll up for easy storage. Measures: 12.5" x 14"
Can also be made as wet/dry bags.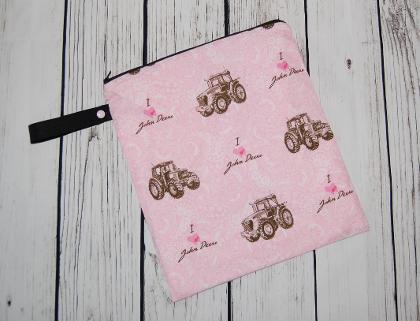 Children's Clothing, Contact for Prices
With a large variety of fabrics available and multiple patterns to choose from. Contact us for a one of a kind item for your little one.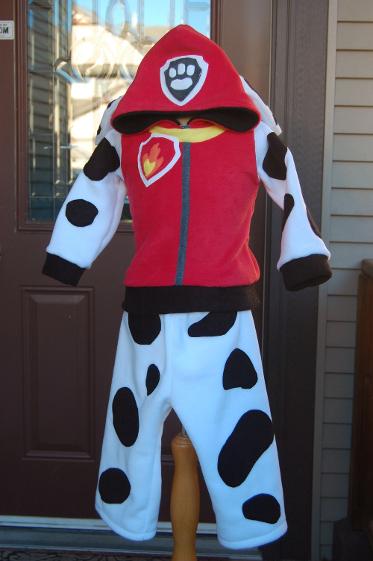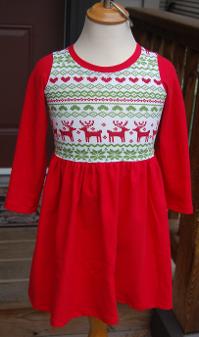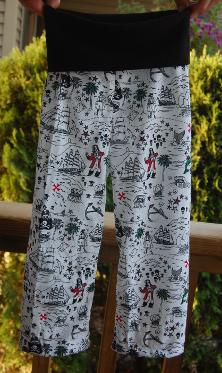 Ladies Clothing, Contact for Prices
A wide variety of patterns designed to flatter every body shape.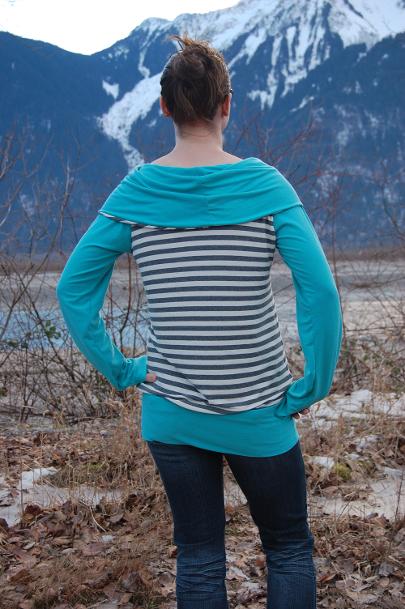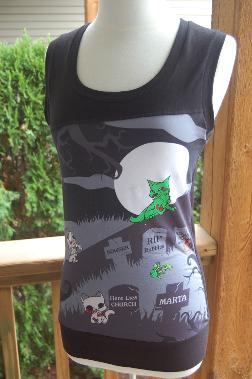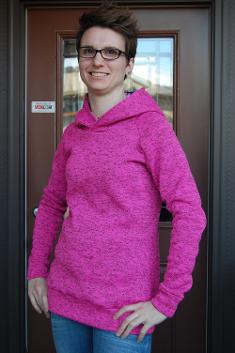 Clutches, $44
The clutch is made from 100% cotton and comes with a matching key fob that can easily be removed from the D-ring.
Features a magnetic clasp closure and a handy pocket that is big enough to hide valuables.
Measures 10" long at the base and 8" at the opening. Stands 5.5" tall. The pocket is 7"x4". The key fob is 5.5" plus the hardware.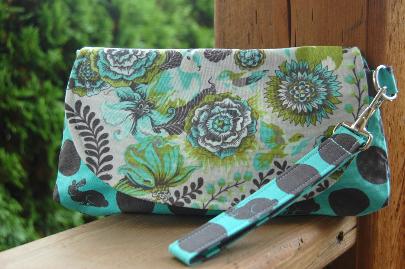 3 Layer Bibs, Starting at $12
Made with either cotton woven or knit front, Minky backing and a layer of terry cloth in the middle for absorption. The Minky backing provides a barrier to keep your little one dry, this type of fabric repels water while it's also super soft on babies skin. With a snap closure as Velcro can be an irritant on skin.
Fits from birth to approximately age 2.5
Children should not be left unattended with this item.
Fleece Soakers, Starting at $15
A fleece soaker is great over a cloth diaper, a disposable diaper, or even over training pants. Made from 100% Polyester Fleece, and has an extra layer in the wet-zone. All appliqué is hand cut and then machine sewn onto the diaper.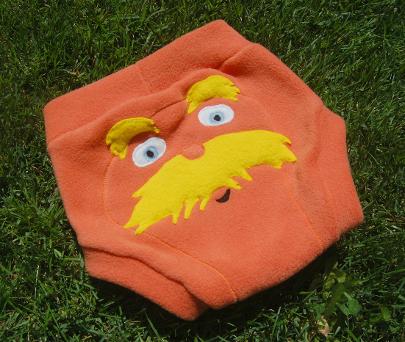 Fleece Toque, Starting at $15
Made from Arctic Fleece, with a Velcro chin strap. All appliqué is hand cut and machine sewn.
Children should not be left unsupervised with this item.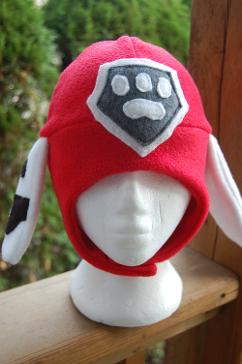 Tag Blankets,
$15.00-$25.00
LoganBerry Baby blankets are made from soft Minky with Flannel backing for a soft comforting feel. Tags are both satin and textured and available in unisex patterns. Machine wash cold, hang to dry.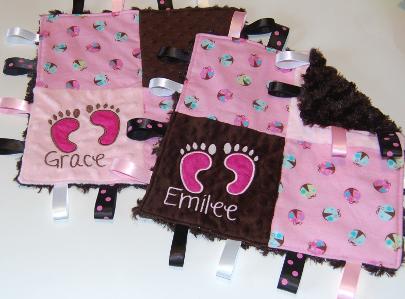 Hanging Tea Towel, Starting at $15
A hanging kitchen towel that wraps easily around your fridge or stove handle and then snaps in place.
Made from 100% cotton, the towel is folded into 3 layers. Also pictured is re-usable coffee sleeve ($10)